Brett Lawrie flirts with a model while enthusiastically gripping a bedazzled phallic object.
Yep, this is news. Photo by Carlos Osorio
I'm not going to discuss the story that this picture comes from.
The Toronto Star
does a decent job of that, as do the bloggers that they link to in that article. No, I just wanted to post this picture of Brett Lawrie and one of the Victoria's Secret Angels, because it's both hilarious and shameless. How Lawrie continues to allow himself to be photographed like this, especially after all of
the other embarrassing pictures
that have been leaked to the internets - pictures that initially had Jays fans questioning his judgement and, uh, "make-up", to put it euphemistically - boggles the mind.
And, honestly? I realize it's Victoria's Secret and all, but did they really need a lingerie model? Could they have made it
any clearer
that this line isn't for the average female baseball fan? And that the clothes aren't even made for the women
who wear
the clothes, but rather for the men
who'll
see them
wear it? (As opposed to, say, men's merchandise, which isn't restricted to underwear and pyjamas, and is designed to fit and flatter all sorts of body types?)
At the very least, they could pair the ballplayer Brett with a female ballplayer - match an athlete with athlete. "Well, who could that possibly be?" you say? Well, at least one name springs to mind immediately. And Brett Lawrie has even taken pictures with her before!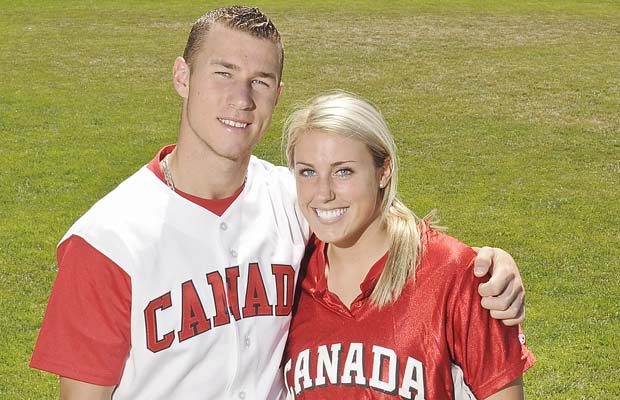 That's Brett's sister, Danielle, btw. Can't find a photo credit.